Contributed by Paula from TheTravellingExpat
Singapore has a current population of 5,822,967 people, with a blend of Cultures. Singapore is known as the Republic of Singapore, and with its a mix of Chinese, Indian and Malay, with a little English flare, it is unique to any other country in South East Asia.
Singapore Travel Itinerary
In this Singapore travel guide you can find:
Why should you visit Singapore in 2020?
Important things to keep in mind, when planning a trip to Singapore
Singapore travel itinerary: Day wise information
Budget info: Singapore trip cost for couple travelers
Where to stay in Singapore (budget friendly options)
How to get around in Singapore (transport facility in an around city)
Things to eat in Singapore
How the weather in Singapore
Do I need a visa for Singapore?
For 80% of the world's countries the answer is no, as lot's of nationalities can visit Singapore for a period of 30 days or 90 days without a visa.
More information can be found on the Singapore Visa information website.
Transport Facilities
Grab/Cab: Grab and ComfortDelGro are the primary providers of transportation other than buses and trains. Make sure you download the apps before you arrive.
Tourist EZ-link card: You can hop on and off buses and trains, which is by far the most cost-effective way to see the sites of Singapore. 
MRT: Reliable, fast and affordable, and it has air conditioning.
Buses: Buses are frequent and reliable, and it is a great way to see the city, they also have airconditioning but can sometimes be crowded during rush hour, if you are riding a double-decker, try and get upstairs for a bird's eye view.
Weather
The tropical showers can come pretty much any day but be gone as quick as they arrive and although the weather in Singapore is always hot and humid, rain can also be on the cards during any season. 
Things to keep in mind 
Umbrellas are a necessity for two reasons. You can shield yourself from the sun and ensure you are protected when the downpour arrives.
Budget Accommodation 
This hostel is in an excellent location to begin your day. There is a free shuttle bus from the airport, and the staff are fluent in both English and Chinese. This hostel has dorm-style accommodation only but does have excellent onsite facilities.
High End Accommodation
Centrally located on the infamous Orchard Road, not only known for its plethora of shopping choices, but it is an excellent place for food and beverages as well.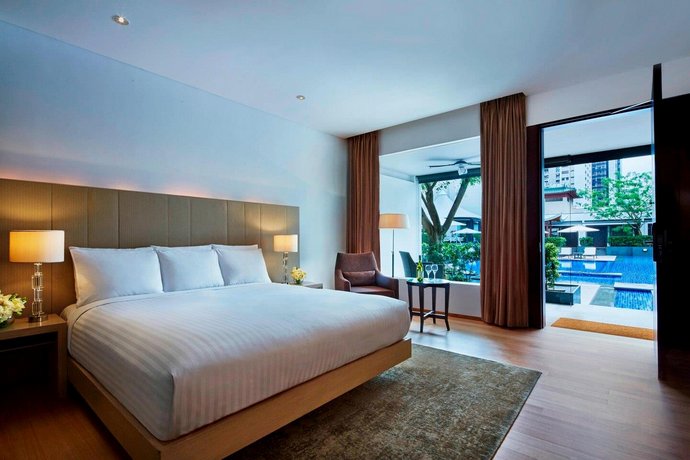 Day 1
Chinatown
This temple is open daily from 7 am to 12 pm and 6 pm to 9 pm, so start your morning at Sri Mariamman Temple (Corner of South Bridge Rd and Pagoda St), just at the beginning of Chinatown. 
Chinatown St Market
This market includes such items as ornaments, gadgets, clothing and souvenirs. Chinatown is open from 10 am to 10 pm, so if you decide to stop for lunch then head over to Boon Tat St (known as Satay St), for many stores selling the best satay sticks in town.
Little India & It's Culture
House of Tang Teng Niah
House of Tang Teng Niah is not far from the MRT and a great photo location. You can choose to eat here (not very expensive). However the food is okay, nothing that I would suggest is a must-do! If you want to try a little Indian, there are many places along the way that are more affordable and are of equal standard. The location is 37 Kerbau Rd; it is open to all hours (possibly even 24 hours), so you can come back anytime if you wish to.
Sri Veeramakaliamman Temple
There are many temples in and around Singapore. However, this is by far the prettiest and more vibrant of them all. Although the entrance is free of charge, you will need to enter without shoes and ensure you are dressed respectfully (if you brought a cardigan then this will come in handy here). The temple is a short distance away at 141 Serangoon Rd and Opening hours are 8 am to 12:30pm and 2 pm to 8:30pm. 
Mustafa Center 
Can be found at 145 Syed Alwi Rd, however, before arriving at the Mustafa Center check out the many shops along the way, it does feel like you back in India. You will find everything, from clothing to jewellery along the way. Why not stop for a quick little curry to share along the way and watch while they cook your chapati on an old fashion stovetop. If you get to head there during Deepavali, then the decorations are gorgeous, bright and vibrant and worth a photo. Mustafa Center is open 24 hours so that you can come back anytime.
Do Checkout: Things To Do In Singapore At Night
Kampong Glan & It's Surroundings
Malay Heritage Center 
This museum is open from 10 am to 9 pm Tuesday to Sunday. Adults are $6, and children and seniors are $4. Please check the website to see what exhibitions are on at the time of your visit. It is a great way to understand the Malay culture and the long history of Malaysia. The Malay Heritage centre ais located at 85 Sultan Gate. 
Sultan Mosque 
The one minute walk to 3 Muscat St will have you fascinated. The mosque is the largest in Singapore and is beautiful to see, the opening hours are Monday to Thursday 10 am– 12 pm, 2– 4 pm
Friday 2.30– 4 pm, Saturday 10 am– 12 pm, 2– 4 pm and Closed on Sunday and Public Holidays. If you wish for a guided tour, then contact info@sultan.mosque.org.sg to set this up. Remember to dress appropriately and only enter from the main entrance, check the official website here, for more details.
Arab Street
Arab street is vibrant, with its array of shop fronts feels like you are in the middle east. Whether you are looking for clothes, jewellery or even carpets, there is something here for everyone.
Haiji Lane 
Haji lane is a cool lane full of little boutiques, cool wall art and great small restaurants. You can choose to eat here or somewhere closer to the mosque, depending on what you feel like eating for dinner. This lane on weekends and during the evening is sprawled with great little musicians along the lane so that you will be bopping along in no time. The other option is to eat close to the mosque as there are a variety of great Middle Eastern restaurants. 
Also Read: Free Things to in Singapore
Day 2

Singapore Botanic Gardens
The Singapore Botanic Gardens was listed as a UNESCO World Heritage site in 2015. The Botanic gardens are open from 5 am, and there are numerous paths to walk along. The sun rises approximately at around 7 am. If early mornings are not your thing, then don't worry head out later and join one of the guided tours or go for a wander around this beautiful garden yourself.
At 2 Cox Terrace, you will find Fort Canning, a massive park with a few hidden gems. The Battlebox visitor's centre is open 930-530pm daily, and it is here you can book into one of there highly sort after tours. You can wander around yourself or join a guided tour of the underground British command centre; this is a beautiful place to spend the afternoon.
Orchard Road
Orchard Road is a short walking distance from Fort Canning; most people know this road for one thing – SHOPPING!! Yes, one entire street dedicated to retail stores. From department stores to restaurants and everything in between, there is something for everyone and of every age.
Day 3
Sentosa
Spend the day at the beach with loads of activities to keep you busy. If you plan to do a lot of things at Sentosa, you should check the website for fun passes or park packages.
Whether you choose to spend the entire day here or and just spend the morning by checking out in advance the rides you know you love. Universal Studios is a great place to start. 
Adventure Cove
Adventure Cove is also a great place to spend the day or just the morning! You can easily spend a full day at this waterpark as there are loads to do for any age group. 

Mega Adventure Park
You can choose from MegaBounce, MegaJump, MegaClimb or MegaZip or do all of them in one package. There are different weight limits on each adventure so check the website before committing to any of them.
There are many more activities to do on Sentosa, and there is something for all ages and interests. There is also plenty of free things to do in and around the island, so have a look online before you go.
Restaurants & Bars to Visit in Singapore
Hawker Chan
If you would instead like to try the infamous Michelin star chicken and rice then head over to Hawker Chan formerly known as Liao Fan Hong Kong Soya Sauce Chicken Rice Noodle, you will not be disappointed. 
El Cubanos
If you would like an alternative to Indian, then El Cubanos has an excellent lunch special. This little hidden gem is an ideal alternative to a heavy Indian lunch when you are in little India.
Selfie Coffee
Selfie Coffee is a great little pit stop for an ice-cold coffee with a selfie on the top. Yes, you heard, right. Stop by, take a photo, and your face will appear on your delicious ice coffee. 
Chopsuey 
Dempsey Hill has so many great restaurants, but this is my favourite. A fusion Asian restaurant with great dishes to tempt any palate.
P.S Cafe
P.S cafe is a chain of restaurants found in Singapore, whether you choose to go there for the ambience (yes, it is that nice) or for the food and beverages, you will typically have to wait.
Din Tai Fung
With loads of locations to choose from Din Tai, Fung in almost every place. This famous Taiwanese dumpling restaurant that has taken the world by storm, so you will always find the queue to be quite long. 
Vatos Urban Tacos
I could not go by without recommending one of my favourite restaurant in Singapore. This fusion style restaurant (Korean and Mexican, yes you heard right), not only have delicious food, but it encompasses a fun, lively atmosphere, which has me coming back again and again.
Bar Stories
You can make a reservation online, which is open from 5 pm daily. This cool bespoke bar has a great vibe, no need to decide on a cocktail they will do it for you! The staff at Bar Stories will ask you some questions and come back with a cocktail designed for you.
The Atlas Bar
For gin lovers, you will not have seen anything quite like it, as it is the most extensive gin bar in the world. Set in the 1920s decore this place is like you have stepped right back in time. 
1919 Waterboat House
This rooftop bar with a beautiful view of The Marina Bay Sands and the Fullerton Hotel is an excellent location on any night of the week. Ensure you book in advance so that you aren't disappointed as this hotspot can get busy.
Mr Stork
If you ask what the best rooftop bar is in Singapore, people will sure to point you in the direction of Mr Stork. The views are amazing, the service impeccable and the vibe on point. It is a win-win all around, you can't book at this popular spot, so arrive early.
With these tips, you're ready to experience the beauty and excitement of Singapore on a budget. Do you have any tips to add?
Our favorite Singapore Travel Guides: Click to look inside⬇